Hiring a hog roast machine could not be easier. Simply give us a call and we will deliver the machine with a bottle of gas ready to go, direct to your venue. The hog roast machine can be delivered with or without a fully prepared pig the choice is yours, take advantage of our carefully selected free range pig. Our fresh produce is locally sourced and delivered with your hog roast machine upon request (but if you want to supply your own food, that's fine, too!).
We will then collect the machine after the event either clean or dirty again the choice is yours, there is an extra cost for sending the machine back dirty. If you have several events planned over a longer period of time again no problem we can arrange for a hog roast machine hire for as long as you require it.
Our hog roast and spit roast machines are very easy to use and come with an easy to follow set of instructions. So next time you feel like impressing your friends and family and playing master chef why not try hiring one of our tried and tested top of the range hog roast machines for the weekend.
When we say that we cover events of all sizes, we really mean it and we've got the specially designed range of hog roast machines to prove it! We've listened to our customers over our many years of professional hog roast service and we're proud to offer everything from the standard Hog Master machine all the way up to the Titan. What's the difference? Our Hog Master machine can handle up to 150 servings per roast, which if you were to host fifty guests would translate as three servings per person throughout the day. The Titan, on the other hand, is a double oven machine, roasting two hogs at once to help you provide in excess of 300 servings per roast.
Speak to us today to find out more about the range of hog roast machines on offer we'll help you to find the perfect fit for your event.
Accessorise Your Hog Roast Machine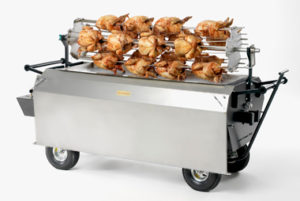 We offer a superb range of accessories that give tremendous depth and flavour to your menu. Our hog roast machine hire accessories include:
BBQ griddle
Chicken spit
Spit roast kit
If you prefer to chef the event yourself, just let us know. Our experienced chefs are happy to set up the equipment and deliver a quick and easy tutorial, leaving you to serve your mouthwatering selection of high quality food to your guests.